The Roton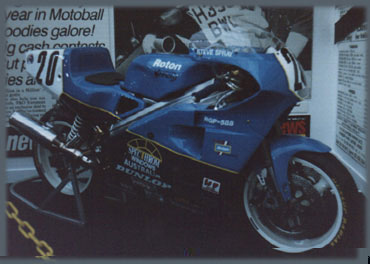 Having resigned from the Norton factory in September Brian Crighton continued to do some freelance work for the factory finishing projects he had already started for them.
But quietly at the same time was already working on his next rotary engined race bike. In March 1991 there were two surprises, firstly Brian Crighton unveiled his Roton (ROtary / crighTON) race bike based on the Norton F1 engine. Brian had started from scratch with a blank sheet of paper and designed this awesome race bike.
The Roton was designed to eventually compete in the 500cc Grand Prix with the rules now allowing 500cc 4 strokes the rotary engine was eligible to enter when reduced down to the 500cc limit. But first the bike was to be tested in the F1 class to develop it ready for the blue ribbon class.
The second surprise was that Steve Spray who was sacked from Norton at the end of the 1990 season was signed up to race Crighton's new race bike.
Backed by Chris Oldfield an Australian racer and businessman, the plan was to build the rotary engined Roton in Australia and race it in Japan and sell a limited number to other teams with technical back up.
With Spray signed to race the bike though the 1991 season the decision was made to stay in the UK to start with and then go to Australia at the end of the year to a new factory to build the Roton's.
The season started well with Spray taking a world championship point in the 500cc Australian Grand Prix and Grant Hodson winning in the F1 race in New South Wales.
Back in the UK the development continued but the financial backing was elusive, in 1992 Crighton teamed up with race consultant Colin Seeley and from that point on the new rotary race bike took off in a big way.
Sponsorship from Duckhams was secured and Mark Farmer was signed as the solo rider to race the bike in the 1992 season. The team name was changed and became Crighton Norton.
And as the season started to unfold everyone involved in the UK racing scene was soon very aware of the name Crighton Norton.