Crighton Norton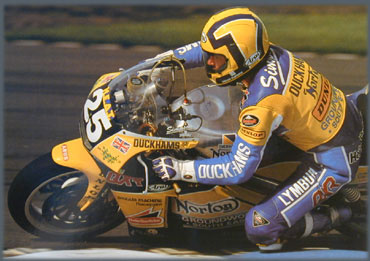 In 1992 after having struggled for over a season and a half with budgets to finance the Roton, Brian Crighton teamed up with Colin Seeley and between the two of them the fortunes of the team turned around quite quickly.
Duckhams sponsorship for the race team was attained and with the extra backing the team was renamed as Crighton Norton. From this point on the team got better and better, Colin Seeley persuaded rider Mark Farmer to ride the bike and the results slowly came in.
For 1993 following the tragic death of Mark Farmer, Jim Moodie took over the ride at the Crighton Norton team and kept the momentum going to the point where the team had achieved 22 rostrum positions for the season.
A larger budget meant that the team could launch a full scale two rider assault on the domestic championships for 1994, riders Phil Borley and Ian Simpson were signed up to ride the now very competitive Crighton Norton and with the demise of the factory Norton