JPS Norton – Grand Prix
The rotary engined Norton has made two entries into the elite 500cc class of Grand Prix racing.
First to attempt it was Brian Crighton with the Roton at the Australian Grand Prix at Eastern Creek in 1990.  Just a few months after leaving the Norton factory set up, Brian Crighton had managed to do something that they hadn't.  He had got a  rotary engined racer into the world of grand prix racing.
This was one of the first races that the Roton had actually competed in, built by Brian in his sheds at his house in the UK, the bike was in for a stiff test against the factory 500's.  Steve Spray as always put the maximum effort into practice and qualifying.  When race day finally came round the team did a great job and managed to gain one world championship point for 15th place in the highest class of motorcycle racing the 500 GP's.
The following year it was the turn of the black and gold rotary racers to try the Grand Prix class, with Ron Haslam making a one off GP ride at the British Grand Prix at Donnington Park.
The latest spec NRS588 was introduced mid season and was the bike Haslam was to race, this bike had caused a few problems so far with the engine and a full scale GP was probably not the best place to test the bike.  But come the race weekend the machine behaved itself magnificently.
Ron was kept busy over the weekend competing in the Superbike races that supported the GP's.  On raceday Haslam put the bike through it's toughest test to date, it was quick, but no where near the pace of the factory 500's, Ron circulated round and round picking up a single championship point for his 15th place emulating the feat of the Roton over one year earlier.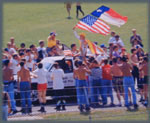 Kevin Schwantz got a massive reception after the race, as he was paraded round, but just behind followed 'Rocket Ron' who received equally as big a cheer.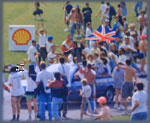 Haslam rounded the day off by storming through the field to win the 750cc support race at the end of the day, recovering from a bad start, he sliced his way through the field, overtaking John Reynolds and James Whitham at the front with just a few laps to spare.